On 18 September 2023, the NI Fiscal Council held its first Annual Conference in Belfast, creating a space for conversations on NI's public finances.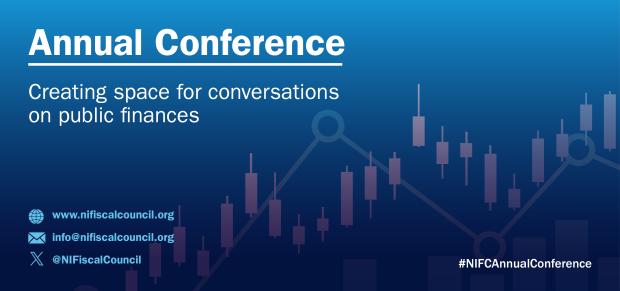 This event discussed issues such as the NI financial settlement, the level of need, how well public money is spent, the role of revenue raising in making public finances and public services more sustainable as well as the link between public spending and economic growth.
Speakers included Sir Robert Chote, Professor Gerry Holtham, Professor Iain McLean, the Comptroller and Auditor General Dorinnia Carville, Jill Rutter from the Institute for Government, Neil Gibson, Permanent Secretary Department of Finance, and Scherie Nicol from the OECD. A summary report, agenda, full list of speakers, presentations delivered during the event and a short video are now available here.
Our reports
All our reports can be found under the Our Reports menu, and include a comprehensive guide to NI public finances, assessments of the Budget for NI, longer-term fiscal sustainability of the NI public finances including a special focus on the NI health system, and an updated estimate of relative need for public spending in Northern Ireland.
Our most recent report, Improving transparency of In-Year Monitoring, was published on 26 October 2023. 
To sign up to our publications mailing list, please email info@nifiscalcouncil.org.
More about us